Effective Pest Control Baniyas Abu Dhabi: Keeping Your Space Pest-Free
Are unwelcome pests causing chaos in your home or business in Baniyas, Abu Dhabi? Don't fret – Top H Services is here to provide you with top-notch pest control solutions that will ensure a clean and pest-free environment. Our dedicated team is equipped with the knowledge, tools, and expertise to tackle various pest-related challenges, all while prioritizing your safety and comfort.
Understanding the Importance of Pest Control
Pests can wreak havoc on your living or working space, causing damage to property, spreading diseases, and creating an unsightly atmosphere. Pest control goes beyond just eradicating these nuisances; it's about safeguarding your health and maintaining the integrity of your surroundings. Whether it's cockroaches, rodents, bed bugs, or termites, a tailored pest control plan is essential to keep these critters at bay.
Comprehensive Pest Inspection and Identification
The first step in effective pest control is inspection and identification. Our skilled technicians conduct a thorough assessment of your premises to determine the type of pests infesting your space. By identifying the pests accurately, we can devise a targeted approach that addresses the specific challenges posed by each pest. From there, we move on to crafting a customized treatment plan.
Tailored Treatment Plans for Your Needs
At Top H Services, we believe in personalized solutions. We understand that each pest problem is unique, and there's no one-size-fits-all remedy. Our experts design tailored treatment plans that take into account the type of pests, the extent of infestation, and the layout of your property. This meticulous approach ensures that we address the root cause of the issue and prevent future infestations effectively.
Choosing the Right Methods and Products
To ensure the safety of your family, pets, and the environment, we use eco-friendly and safe pest control methods. Our selection of treatment products is designed to minimize harm while maximizing effectiveness. Whether it's using bait stations, natural repellents, or targeted pesticides, our team is well-versed in the application of a wide range of products to suit your specific situation.
Professional Execution of Pest Control
Execution is key, and our team of experts is well-equipped to carry out the chosen pest control methods with precision. We prioritize your convenience and safety, ensuring minimal disruption to your daily routine. From sealing entry points to eliminating breeding sites, we leave no stone unturned in our efforts to eradicate pests from your property.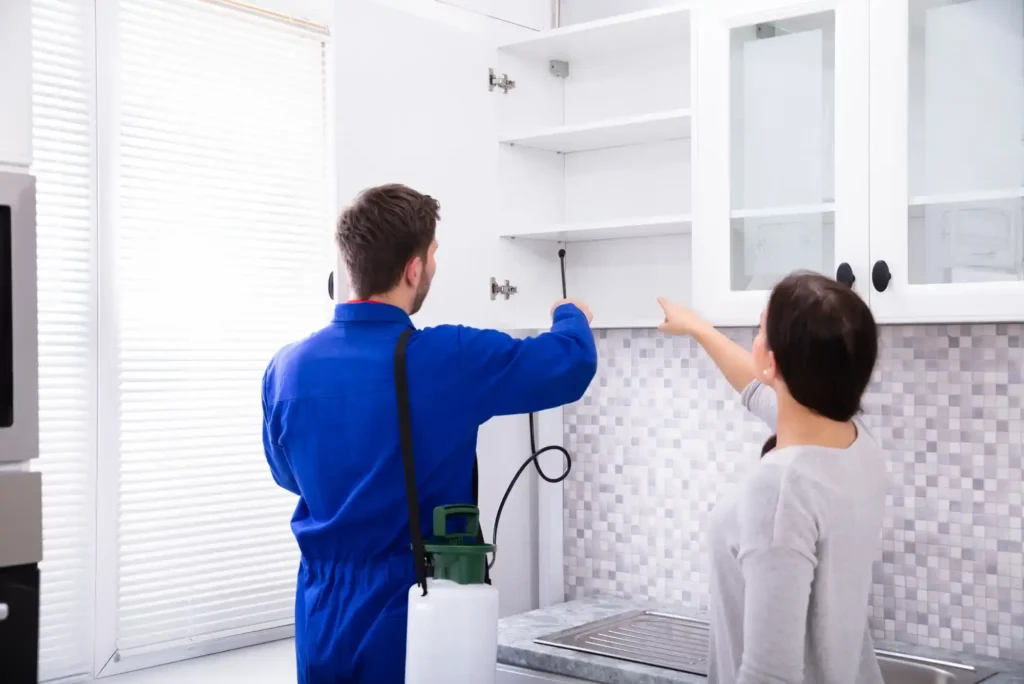 Ongoing Monitoring and Prevention
Our commitment doesn't end with eradication. We believe in the importance of ongoing monitoring and prevention to ensure to get pest-free environment. Our team provides guidance on simple measures you can take to discourage pests from returning. Additionally, we schedule follow-up visits to assess the efficacy of our treatments and make any necessary adjustments.
Why Choose Top H Services for Pest Control in Baniyas, Abu Dhabi
Experience and Expertise: With years of experience in the industry, our team brings unparalleled expertise to the table. We understand the unique challenges posed by Baniyas' environment and tailor our solutions accordingly.
Customer-Centric Approach: Your satisfaction is our priority. We listen to your concerns, address your questions, and keep you informed throughout the process. Our aim is to provide a seamless and stress-free experience.
Cutting-Edge Solutions: We stay updated with the latest advancements in pest control technology and methods. This ensures that our treatments are not only effective but also environmentally friendly.
Affordability: Quality pest control shouldn't break the bank. We offer competitive pricing without compromising on the quality of service.
Get in Touch for a Pest-Free Environment
Say goodbye to unwanted pests with the help of Top H Services. Our team is ready to assist you in reclaiming your space from the clutches of pests. Contact us today to schedule an inspection for Pest Control Baniyas Abu Dhabi