When it comes to preserving the beauty and longevity of your cherished Persian carpet cleaning Dubai, you need the expertise of a professional cleaning service. At Top H Services, we take pride in offering top-notch Persian carpet cleaning solutions to ensure your prized possessions remain spotless and vibrant for years to come.
The Importance of Persian Carpet Cleaning Dubai
The Unique Beauty of Persian Carpet Cleaning Dubai is renowned for their exquisite designs, intricate patterns, and rich cultural heritage. Owning a Persian carpet is like possessing a piece of art that enhances the ambiance of any space. To maintain their allure, regular cleaning is essential.
Dubai's Unique Challenges Dubai's climate and environment present specific challenges for carpet owners. Dust, sand, and occasional spills can accumulate over time, affecting the carpet's appearance and durability. Professional Carpet Cleaning is crucial to combat these issues effectively.
Understanding the Persian Carpet Cleaning Process
Assessment and Inspection Our expert team at Top H Services begins the cleaning process with a thorough assessment of your Persian carpet. We identify any stains, spots, or areas requiring special attention. This helps us determine the most suitable cleaning approach for your carpet's specific needs.
Gentle Dusting and Vacuuming We start by gently dusting the carpet to remove loose dirt, sand, and debris. A powerful vacuuming follows, effectively extracting deep-seated dust particles that are often missed during regular cleaning.
Specialized Cleaning Techniques Using our extensive experience in handling delicate Persian carpets, we employ specialized cleaning techniques that preserve the fibers' integrity while effectively removing stains and odors.
Eco-Friendly Solutions At Top H Services, we prioritize the health and safety of our clients and the environment. That's why we use eco-friendly cleaning solutions that are tough on stains but gentle on the carpet.
Expert Hand Washing To ensure a thorough and meticulous cleaning process, we often resort to traditional hand-washing techniques for Handmade Carpets. This labor-intensive approach allows us to reach every corner of the carpet, leaving no dirt behind.
Drying and Post-Treatment Inspection Once the cleaning process is complete, we take special care to dry the carpet in a controlled environment, preventing any potential damage. A final inspection guarantees that your Persian carpet is immaculate and ready to adorn your space once again.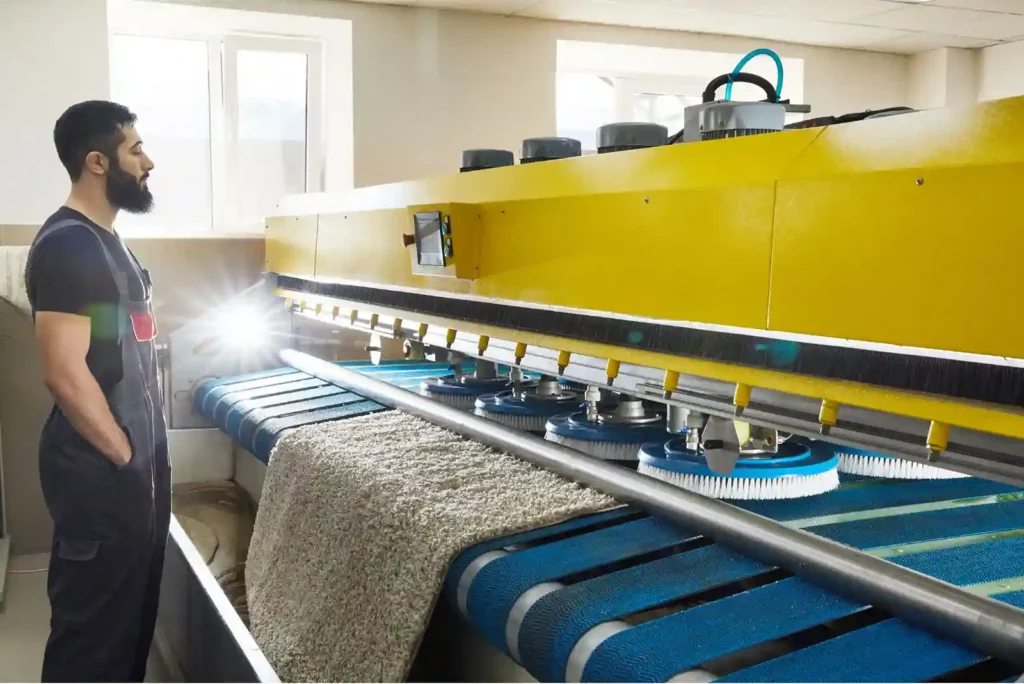 The Benefits of Choosing Top H Services Persian carpet cleaning Dubai
Certified Professionals, Our team consists of skilled and certified experts for Persian Carpet Cleaning Dubai who have honed their craft over the years. Rest assured, your Persian carpet is in safe hands with us.
Advanced Equipment and Techniques Top H Services employs state-of-the-art equipment and proven cleaning methods to deliver exceptional results without compromising the carpet's quality.
Customized Cleaning Solutions We understand that each Persian carpet is unique, requiring tailored cleaning approaches. We craft personalized sofa and carpet cleaning solutions to ensure the best possible outcome for your carpet and sofa.
Timely and Reliable Services We value your time, and punctuality is our priority. Count on us to provide efficient and reliable cleaning services, meeting your deadlines and expectations.
Total Satisfaction Guaranteed Our commitment to customer satisfaction drives everything we do. We guarantee that you'll be delighted with the refreshed appearance of your carpet after our carpet cleaning services.
Don't wait any longer to give your carpets the love they deserve! Contact us today to schedule an appointment with our expert team. Let Top H Services be your go-to choice for carpet cleaning, and we promise you won't be disappointed. Say hello to a cleaner, fresher, and more vibrant home!
Find Persian carpet cleaning service in our more areas like Cleaning Services Dubai, Cleaning Services Sharjah, Cleaning Services Abu Dhabi, and Cleaning Services Ajman